12 Days of Christmas
Come back everyday for the newest combo special.
Tapputi Egyptian Perfume Oils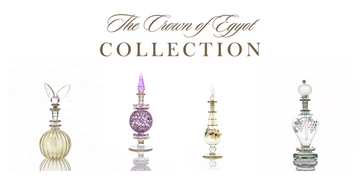 What others are saying about Tapputi
Absolutely stunning
Absolutely stunning perfume bottles... out of this world. And a varietv of perfumes to suit every taste. This is a collectors item at a give away price. Perfect xmas gift to ladies who love the finer, more vintage side of life.
Long lasting perfume
TAPPUTI Luxury Perfume Oils are long lasting. AMAZING QUALITY and those bottles are so unique and just real masterpieces. I pray I could be blessed with each magical bottle of pure bliss. I absolutely love my perfume bottle.
Beautiful bottles
I just received my beautiful perfume bottles. Thank you so much for the special care and arrangements to deliver my package in time before we leave for holiday. I will definitely contact you again next year for more. I can recommend you to anyone.
Love it so much
I just want to let everybody know that I love my @taputtiparfum I received Cherry Aura and is in love with it. Just love the floral fruity fragrance
Drive men crazy
With all honesty I can sav these perfumes are enough to drive men wild. My friend has a bottle of this and it last the whole day on her. The smell is just next level. Congrats on creating absolutely amazing products ladies! Well done.
Obsessed with it
We are obsessed with our perfume, the order was for me and a colleague, and we are the talk of the town. The designs and fragrances are fantastic, thank you very much for excellent service and a wonderful product.
Best Christmas Gifts
Bought three of your perfumes for my wife and two adult daughters as early Christmas presents. They are ecstatic. The beautiful bottles and unusual scents were a hit. You will see more business from us in the future.
Stunning bottles
Stunning bottles and most refreshing smells! Unique and soft! I LOVE the oils and the way to apply them! the smell sticks for hours on hours!
Efficient delivery and service
Beautiful range of perfume oils, service and fast and efficient delivery, beautifully packaged - highly recommended. I now have 4 of this beautiful range, and will continue to purchase until i have the full range.
Amazing service
Awesome service from Steve - he assisted me to find the right oil after I chose one that was too light! I can recommend that you try these
Egyptian oils - I could smell the Sabine oil before I even opened the box. Thank you Steve
Absolutely devine
Great customer service, thank you Steve! Delivery was faster than expected. I bought two perfumes (Sabine & White oud). Smells
absolutely devine and love them both. They last for hours and the bottles are so beautiful. Will be back to buy more. Can definitely recommend.